Oh man! It has been over a month since my last post, I'm slacking! I had went to a church event to help promote my buisness but not many people were there! I think it's because we never told everyone that you had to enter through the back. Oops! While I was there I saw a vendor who was selling nice baby products!
It's called "Sweetsation Therapy'. They sell all Organic baby products, and stuff for mommies too! They have everything from Morning sickness Lip balm (helps lessen morning sickness and motion sickness), Stretch Mark Cream for mommies, Baby Massage Oils, even shampoo that is supposed to help your baby's hair grow longer! Check 'em out! www.sweetsationtherapy.com
Audrey had gotten a bad ear infection, all three of us girls caught a terrible cold that plagued us for two weeks. High fevers and a cough, exhaustion was the word for the month!
I have been working on making a scrapbook for the girls. It's turning out pretty cute, I got two pages done... but I want to perfect it before I post it online! It just feels like it still needs something.
The girls keep me so busy, I can't believe how much I DIDN'T get done last month. Well here are some cards I managed to sneak in between their naps (and mine)!
Stamp Sets: Botanical Blooms SAB
Cardstock: Whisper White, Mellow Moss, Shimmery White.
Stamp Pads: Close to cocoa.
SU! Watercolor crayons for flowers and grass.
Ribbon: Retired Groovy Guava Stitched.
Pearls.
The Big Shot Die cut machine
Top Note Die Cut
I never finished this one... It needs something at the top but I can't figure out what! I had a scallop at the top and it looked like a little donut shop, but I'm not quite sure if I liked it!
Stamp Sets: Comfort Food Hostess Set
Cardstock: Whisper White, Bashful Blue, Designer Series Paper SAB
Stamp Pads: Pacific Point (sponged)
Ribbon: Retired
SU! Markers and Aquapen
Gold Brads
The Big Shot Die Cut Machine
Movers and Shapers Curly Label Die Cut
Punch: Curly Label Punch Bundle
Here is a wooden box I made at my moms last downline meeting!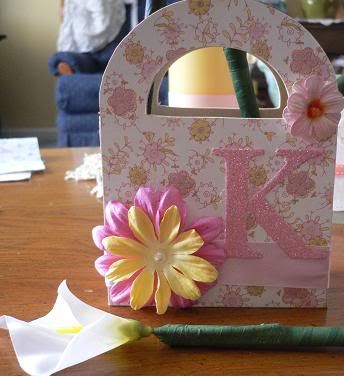 I purchased the box and background paper from Michaels. The flowers, Ribbon and pens/green paper were also purchased from Michaels. This was more-so a crafty project rather than SU! based. The pearl was from the SU! Pretties Kit and the K was from the Serif Essentials Alphabet die cut. I used Pretty in Pink Card stock and ran it through the Xyron Sticker maker on both front and back, Putting Dazzling Diamonds SU! glitter on the front. SU! sanding block helps smooth the edges of the box where the card stock isn't exactly even with it.
Stamp Sets: A good Egg, Itty Bitty Backgrounds
Card stock: Gable Green, Whisper White, Ruby Red, and Only Orange
Stamp Pads: Basic Black, Gable Green, Chocolate Chip.
SU! Watercolor Markers and Blender Pen
Glitter: Dazzling Diamonds
SU! White Jumbo Eyelets
Punches: Large Oval, Scalloped oval, Scallop Edge
Daffodil was bought from Michaels Craft store.
Ribbon: White Taffeta
This one is from my twin daughters to their daddy. They colored the Easter eggs themselves and even used the Aquapen to blend it! (With my help and complete supervision of course... 7 month olds tend to chew on the watercolor pencils more than use them!)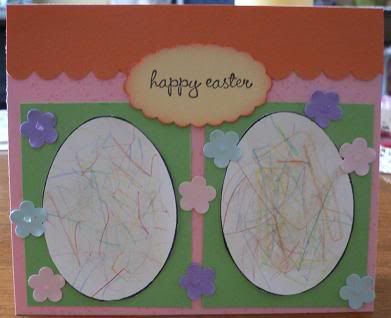 Stamp Sets: A Good Egg, Itty Bitty Backgrounds
Cardstock: Pretty in Pink, Only Orange, Barely Banana, Sage Shadow, Whisper White, Bashful Blue, Lavender Lace
Stamp Pads: Basic Black, Pretty in Pink, Chocolate Chip, Only Orange (sponged)
SU! Watercolor Markers and Aquapen
Punches: Scallop Oval, Trio Flower
I think it is missing some ribbon, no card is complete without it! I will have to add some if it wont look too busy! Till next time, blessings!